Sverker Åström – 100 years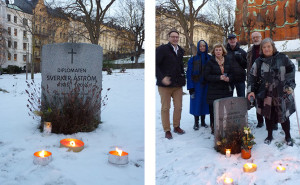 The 100 year anniversary of Sverker Åström on December, 30 was celebrated at his grave in the cemetery of St. John in Stockholm. Friends sang "Happy birthday", drank champagne, poured over the grave and lit candles. Elena Alekseeva, one of the stipendiates, read his most beloved Pushkin's poem "Umolknu skoro ya".
Sverker Åström (1915-2012)
He passed away June 26 at Serafen in Stockholm, aged 96.
Sverker Astrom´s funeral service was held at St Johannes Church, Stockholm, August 1.